Regular price
$599.00
Sale price
$497.00
Unit price
per
Sale
Sold out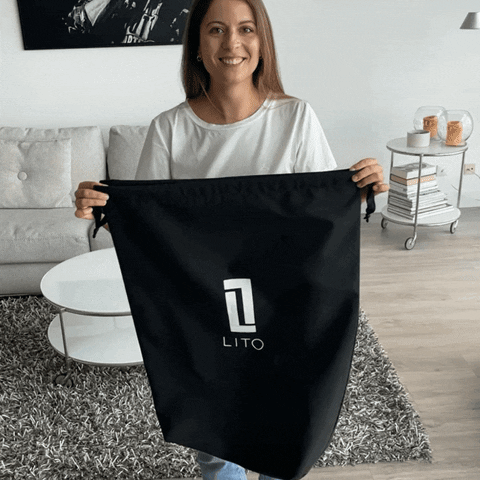 FULL SPECS
Narrow space storage
Internal panels folding system
Reflective anthracite texture easy to spot at the airport
High carry-on capacity when expanded (40Liters - 8.8 Gallons) | check-in (70Liters - 15.3 Gallons)
360' Reinforced wheels
15.6" Laptop pocket
1-click TSA omni opening​
100% recycled PET plastic shell
Dimensions Carry-on: 21.3" x 14.6" x 5.9" [9.8" unfolded] /  54 cm x 37 cm x 15 cm [25 cm unfolded]
Dimensions Check-in: 25.2" x 17.3" x 5.9" [11" unfolded]  / 64 cm x 44 cm x 15 cm [28 cm unfolded]
Weight Carry-on: 7.7 lbs (3.4 kg)
Weight Check-in: 9.7 lbs (4.3 kg)
Waterproof, YKK Zippers
110% limited lifetime guarantee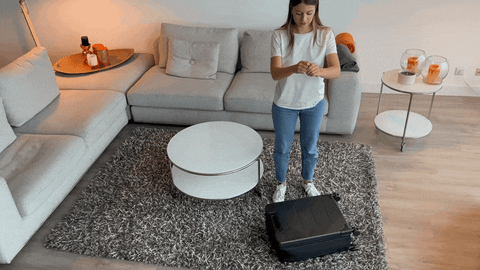 You can check LITO at the airport with no problem - or also jump on it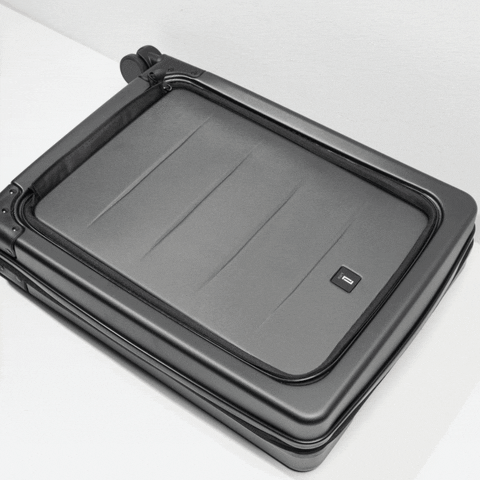 LITO's patent-pending internal folding mechanism showcase
Traveling with the first LITO in the world in July 2021 - Tuscany, Italy.

LITO is the foldable suitcase that helps you save 2.5x storage space, made from 50 plastic bottles. Less space, less waste. 
With every LITO you prevent 5.1 lbs (2.3 kg) of PET plastic ending up in the ocean.
"The first suitcase brand that helps save space in everyone's closet" MarketWatch AB Digital
Resistance to pressure
Internal panels folding system


Wondering where to store your bulky suitcase?
Stay organized with LITO – the revolutionary suitcase with a patent pending folding mechanism to save you 2.5x more storage space.
We developed LITO's unique folding mechanism to be durable, lightweight and simple to use thanks to its 4 internal folding panels. The unique mix of hard and soft shell allow LITO to resist high pressure when checked-in at the airport.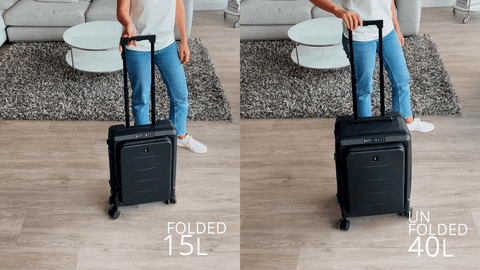 Leave your heavy goods at the hotel and use LITO for your daily trips while still packing your laptop and smaller items!

Ride smoothly thanks to four 360″ wheels designed to resist impact.
Worried to lose your investment in LITO due to breakage? LITO comes with a lifetime warranty to protect your investment. This is how much we trust our product. Our warranty is valid in the following cases:
Cracks or breaks in the shell
Wheels, handles, or telescoping handles that break off and are no longer usable
Zippers that can no longer be opened or closed
Fabric tears that render front pocket or side fabric non-functional.
If eligible you will get LITO 100% repaired or replaced + a 10% OFF your next purchase on our e-commerce store.
Should you buy a suitcase of a duffle bag? We have reinvented the rules of the game by bringing to you the best of both worlds.
View full details
Great Carry On
Bought this for an upcoming trip so I haven't actually traveled with it. However, I'm really impressed with it even before using. I did a test pack and was able to fit a surprising amount of items. Really easy to expand. Handle glides out nicely and I was able to easily maneuver the bag through various rooms in my house. Looking forward to actually putting it into action. Happy with my purchase so far. And I love that it comes with a storage bag. Makes me feel extra fancy.
*LOVE*LOVE*LOVE* (But looking forward to V2!)
*LOVE*LOVE*LOVE* my Lito Carry-on and Lito Checked Bag!
I love how compact my Lito carry-on and checked-bags store! The zippers are high quality, the wheels are super smooth, and the telescoping handles are well crafted. The polycarbonate exterior is very rugged and has held up really well over four recent trips. I have not noticed *any* wear or tear on the polycarbonate exterior or along the zippers. (For context, the zippers on my Calpak extra large checked bag started showing significant wear and tear after only one trip!) The wheels still look great and the telescoping function of the handle remains excellent. Finally, I *absolutely love* the fact that the wheels are completely external to the body of the bag. I have a Tumi under-seat rollaboard that I now believe was a waste of money because sooo much of the interior space is taken up by the wheel-housing systems and how the telescoping handle is housed inside the bag. These two things totally take up too much space. My Lito bags do not have that problem at all, and I very much appreciate it.
However, there are a couple of things I look forward to seeing in V2.
1. I would love to see a light-color interior, which would make seeing what is in the bags sooooo much easier.
2. I would love a version that doesn't have zippers at all, but only clasps. As an American, I know this is more common for European luggage, so I would like to see a future version like that.
3. I would love a "trunk" size. The check-in size is not very large. As someone who travels a lot, and basically lives out of a suitcase for months at a time, a third option for size would be nice.
4. The way the bags open in the front is not ideal. I like that the bags aren't clamshell, because I can actually fit more (although I know the current prevailing trend is towards clamshell suitcases). But, having to open two sets of zippers to get into the main compartment is not ideal. I get why the front opens the way it does, particularly on the carry-on version, but it isn't particularly easy to get in and out of the main compartments. I recommend reconfiguring how to get in and out of the bags for V2.
5. I *really really really* wish these would nest for even more compact storage. My current travel set up kind of works out, since I have a large Calpak, clamshell checked bag in which my Lito carry-on and checked-bag fit when not in use. But I would *really* *love* a trunk-sized Lito bag in which my Lito carry-on and Lito checked bag would nest for storage.
6. There isn't any accessible external handle when the bag is collapsed and zipped up for storage. It just makes grabbing a stored Lito bag a little difficult, since the only place to grab on to is the telescoping handle. I have accidentally engaged the button to release the telescoping handle when grabbing the bag when collapsed a couple of times. Not a huge problem, but definitely inconvenient.
7. Additional color options would be nice, but I assume this is already in the works for the future, so I am not too worried about it.
All in all, though, all the things I listed above as what I would like to see in V2 are "nice to haves", not deal breakers for me. In short, I am incredibly pleased with my purchase, recommend Lito to everyone I know, and look forward to being a long-time Lito customer!
Bravo to the entire Lito team! Keep up the good work!
Its different from all the bags I own
Nice but late
Like the product, but it arrived late and I couldn't use it for my trip. Said that I'm really happy with the quality